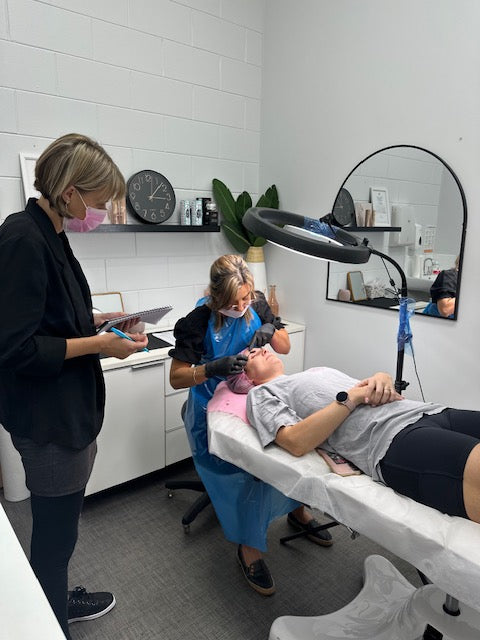 Cosmetica Pro Training
Take the first step towards a fulfilling career in Cosmetic Tattooing. Join Cosmetica Pro Store's 5-Day Brow Training Course right here in Townsville
Learn More
New In Store NOEMI Hybrid Brow/Lash Dye.
View all
Regular price

Sale price

$19.95 AUD

Unit price

per

Regular price

Sale price

$19.95 AUD

Unit price

per

Regular price

Sale price

$19.95 AUD

Unit price

per

Regular price

Sale price

$14.95 AUD

Unit price

per

Regular price

Sale price

$19.95 AUD

Unit price

per

Regular price

Sale price

$19.95 AUD

Unit price

per

Regular price

Sale price

$29.95 AUD

Unit price

per
What our customers are loving!
Inlei Rembrandt Bursh

InLei REMBRANDT brush has an angular cut with a wide base to help spread the tint with precision for sharp, defined lines. Perfect for dye & tint application.

Noemi Lash & Brow Foam

This ultra fun PINK Lash & Brow cleansing foam is the perfect cleaners to prep your clients brows & lashes to guarantee a clean canvas for your masterpiece.

Brow Daddy Corrector Set

Colour Correct Cosmetic Tattoo Brows Like a Boss!

Create brow miracles with the mystical power of the Brow Daddy Magic Corrector Set. With 3 enchanting colours designed for modifying and correcting
At Cosmetica Pro Store, we're proud to be Australia's leading supplier of cosmetic tattoo supplies and beauty products. We have an extensive selection of quality products that cater to the unique needs of industry professionals.
Read More
Our passion lies in serving the beauty industry by providing salon supplies that are not just affordable but also uphold the highest quality standards. We offer a huge range of items, from salon disposables and waxing to lash lift kits and brow pigments, with everything available at wholesale prices.
A Dedicated Store for the Beauty Industry
We recognise that the beauty industry requires specific, high-quality products for different techniques. That's why our dedicated team of industry experts regularly updates our stock to ensure you always have access to the latest and most innovative products. From fresh new brands to established favourites, we hand-pick each item with an emphasis on quality, innovation, and affordability.
Committed to Cruelty-Free and Vegan Beauty
Here at Cosmetica Pro Store, we pride ourselves on our commitment to cruelty-free and vegan products. This dedication reflects our belief that the beauty industry should be inclusive, compassionate, and kind. When you browse our cosmetics online throughout Australia, you'll find an array of cruelty-free items, from mask and treatment products to salon disposables, all at wholesale prices.
Providing a Huge Range of Products at Wholesale Prices
When you shop with us, you can trust you're receiving the best prices for your salon supplies. We offer a huge range of permanent make up products at wholesale prices, allowing you to keep your salon stocked while saving on costs. You'll find salon disposables, bulk products, cosmetic tattoo supplies, and much more in our expansive range.
Offering the Best Customer Service in Australia
Our customer service is second to none. We're here to help with any questions about our products, shipping, or training. If you need product knowledge or advice, don't hesitate to contact us. We strive to provide the best customer service in the beauty industry, offering expert advice and guidance to our valued wholesale customers as well as the very best beauty supplies Australia-wide.
Adding to Your Wishlist Made Easy
Browse our large selection of beauty supplies within Australia and add items to your wishlist with just a click. From salon supplies to the latest in brow and lash trends, you'll find a variety of items at the best prices, ready to be added to your wishlist. And with free shipping on certain orders, there's never been a better time to stock up.
Training for Beauty Industry Professionals
We're more than just a supplier, we also provide industry-standard training for beauty industry professionals. From basic techniques to advanced cosmetic tattoo courses, our training modules are designed to help you elevate your skills and deliver exceptional service to your clients.
Stay Updated with Cosmetica Pro Store
To stay updated with our latest products, prices, and training opportunities, subscribe to our newsletter. You'll also be the first to know about our special offers, so don't miss out on the cosmetics available online Australia-wide.
At Cosmetica Pro Store, your satisfaction is our utmost priority. We pride ourselves on our commitment to providing the beauty industry with the best salon supplies at unbeatable prices. With a vast range of products, expert product knowledge, and dedicated customer service, we are your one-stop shop for all your beauty needs. Contact us today to see how we can support your salon's success!
Wholesale Beauty Products Australia - Frequently Asked Questions
What kind of cosmetic tattoo supplies do you offer?
At Cosmetica Pro Store, we provide a vast array of cosmetic tattoo supplies. You can browse through a selection that includes everything from inks to aftercare products. Visit our website to find the items that best suit your needs.
Do you offer wholesale prices for salon supplies?
Absolutely! We are pleased to offer all of our salon supplies, which range from treatments and masks to salon disposables, at competitive wholesale prices. We understand and appreciate the needs of our wholesale customers, and as such, we strive to provide the best prices for the best quality products.
What are your shipping policies?
Cosmetica Pro Store offers fast shipping on all orders within Australia. You can find more detailed information about our shipping policies on our website.
Read Less